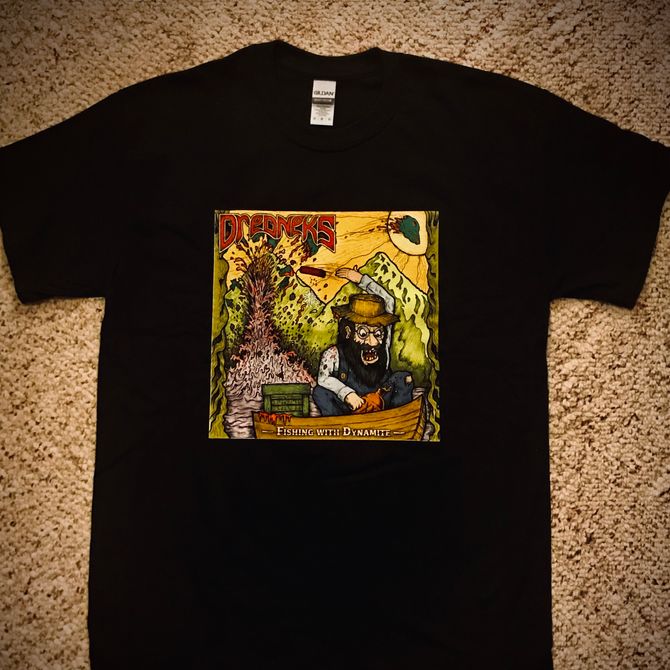 Dredneks T-Shirt and CD Package!
Dredneks much anticipated EP "Fishing With Dynamite" can now be ordered. This package includes a limited edition "Fishing With Dynamite" t-shirt, as well as, a copy of the physical CD. Only a limited amount of orders will be available! And as they vanish, we only have MEDIUM sizes left.....
Latest Releases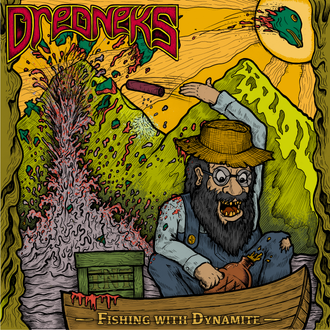 Dredneks Physical CD NOW AVAILABLE!!
Western NY States folk punk-a-billy washboard lovin' bunch have released their much anticipated EP "Fishing WIth Dynamite". Get your copy today!! Only a limited run available!!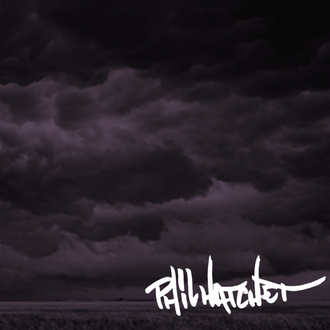 Phil Hatchet 2
Phil Hatchet returns with their second eponymous release after a 14 year lapse since their debut release in 2005. This time they pummel the listener, not only with their signature heavy sound, also with a double vocal attack. Tony Balante of A Few Askew counters with Ed Schroeder to bring an unrelenting attack to the sound of Phil Hatchet.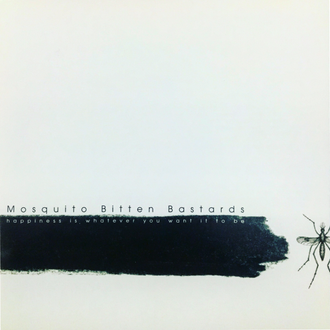 Mosquito Bitten Bastards "Happiness Is Whatever You Want It Too Be"
The sole release from one of Northeast Ohio's hidden late '90's gems. A driving and well written set of tunes composed and performed throughout the region, Mosquito Bitten Bastards would have a loyal following through their years on the regional scene. Ultimately, their time was short, however this album represents well the energy, drive and creativity of one of Ohio's best indie-rock bands of the late '90's.
Merchandise
LIMITED BASS DRUM MONKEY PACKAGE
This special, one time offer package includes the custom bass drum head that SOMETHING INVOLVING A MONKEY has toured and performed on for the last 7 years. THERE IS NO OTHER DRUM HEAD LIKE THIS!!  Collect a piece of monkey history with this one time package, which also provides you with a hoodie of your size (S,M,L,XL,2XL) the complete catalog of SIAM releases, a sticker and a poster. (poster not shown) FIRST COME< FIRST SERVE!!
$20 Shipping Will Be Applied. USA Only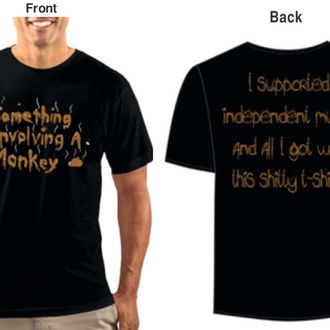 Something Involving A Monkey "Poop Shirt"
This shirt will make you the talk of the town!! Black with diarrhea brown and corn highlighted lettering, it gives off a very smelly & messy visual of Something Involving A Monkey's name. Created by a monkey himself, it is only fitting that the back gives homage to the struggling artist by stating "I supported independent music and all I got was this shitty shirt" Comes in sizes M, L, XL, 2XL.
Purchase your Poop Shirt here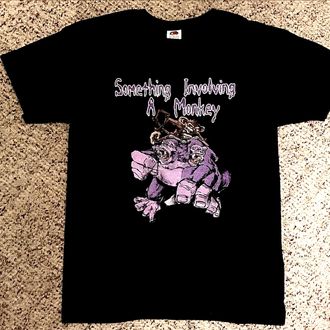 NEW!! Gorilla Warfare Glow in the Dark T-Shirt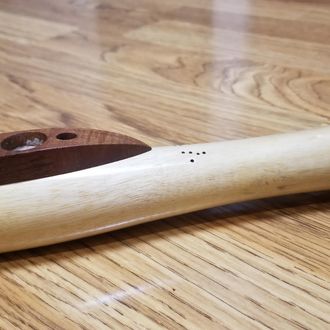 Large Custom BeZo Kazoo - Something Involving A Monkey
This custom made kazoo has performed often over the years onstage with SOMETHING INVOLVING A MONKEY's bass player and membranophonist, BeZo. Package includes a "Trick or Treat" poster and a sticker.
$5 Shipping Will Be Added. USA Purchase Only.